Members of '65:
I quote from the Lawrenceville Lexicon:
"…The June 1885 issue of Lawrenceville's earliest newspaper, The Lawrenceville Record, anticipates the move into the new Circle Houses after the summer: "Entirely separate from the masters' (Circle) Houses is the bathhouse. Here are 12 bathtubs. Attached to this room is a reading room, in which each boy is detained about a quarter of an hour after bathing to prevent him from taking cold." Each boy was allocated two scheduled 20-minute bathing opportunities each week. Missing a turn meant waiting until the next scheduled bath time."
Now look at the Bath House today: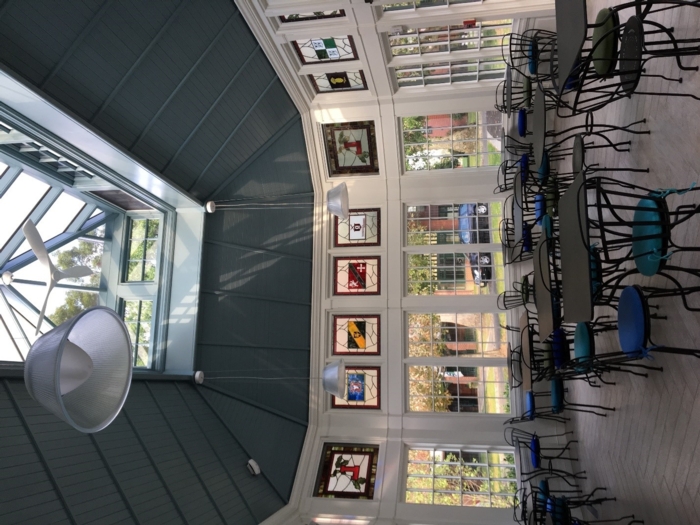 I don't know why, but the above reminds me of Jim Adams' answer to my question, "Has co-education had a positive impact on Lawrenceville?" to which he answered, "Are you kidding? The boys bathe more often and sit up straight in class!" OK, there was more to his answer, but I liked that part.
Speaking of Lower, your homework this week: Take out the 50th Reunion Olla Pod and reread Randy Woods' opus, Lower Form of Life. It's a scream. When you next feel like complaining about lack of privacy in Lower, think of bathing in 1885 (or my barracks in Fort Hood).
And now speaking of Randy, he is helping the Alumni Office organize a St. Louis Alumni gathering on October 24. All alumni will be welcomed, but it is '65 that will, as always, shine. Carol Ann and I will shiningly attend, and I hope any '65 members in zip codes 00001 through 99999 or elsewhere on the planet will also attend.
The above quoted paragraph makes passing reference to the Circle, "…..anticipates the move into the new Circle Houses after the summer….." Your 55th Reunion year will coincide with the 135th anniversary of the Circle.
I repeat myself (at my age, I am allowed, even expected to) that you MUST return in 291 days on May 1, 2020 for reunion weekend. You MUST see the renovated Flagpole Green (if I recall correctly it was funded by a youngster from '97), Corrente Walk (Judith Corrente, long term Trustee, Ambassador, and spectacular fund raiser), the Bath House, Math Building (the Kirby family, again!), renovated Bowl, and much much more.
Talk to you again in a month or so. Please visit Matt's www.lville65.com for updates.
Leigh P '97 '02
P. S. I welcome your comments and suggestions.
(Please forgive my typos in the last newsletter. And this one. And all to follow.)